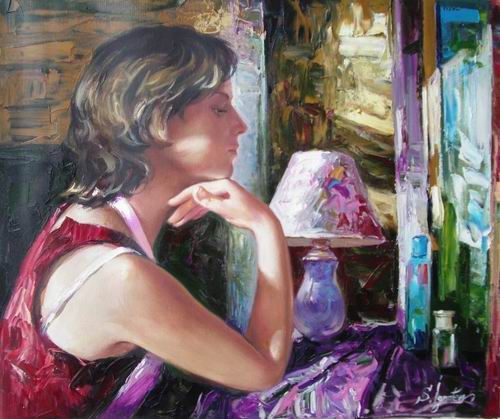 Sergey Ignatenko's statement
From early childhood I was always drawn to painting. Over the years this craving intensified, which determined my life way. The excellent art's education I received (first at the Art college, then at the Academy of Arts) allows me to work in different styles, genres and with different materials. In my portfolio may be found landscape and still life works, abstraction and portraits. I feel myself sure working both with oils and pencil. During working on the portraits, I often use a dry brush technique.
However, my most favorite motif is the image of the most beautiful thing on the earth - a woman. Since ancient times woman attracted eyes to her and fired the minds of many artists. I could not avoid this subject also. In my paintings she may be different - dressed or naked, in joy or sorrow, she can sit, stand or lie down. But I always try to show her grace, dignity, and to convey her physical and spiritual beauty. Women account for many tests in life, but in any case they want to be loved and wanted, want to be taking care of them. And my task as an artist, I see to arouse by the viewer admiration of female beauty, but at the same time to show the feminine poignancy and vulnerability. In my works, I actively experiment with color and light to highlight the most important and significant in painting. My theoretical and practical knowledge I try to convey to my pupils - students of the Gomel Art college.